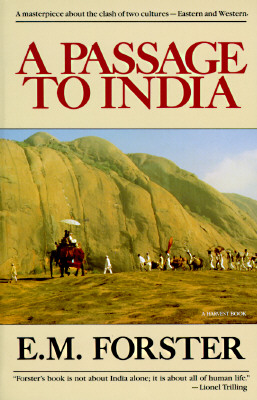 This is about the book by EM Forster. I listened to the audio book. WOW!! What a tremendous read. I don't think I've been this excited about a book in quite a long time. The book was published in 1924.
I don't know where to begin in explaining why this novel is so magnificent. Let me begin by saying that the audio book version I listed to was read by Sam Dastor. Amazing voice performance. I couldn't find too much about him on a quick google, but I did gather that he was born in India, but is either British or moved to England. At any rate, he masterfully invoked over a dozen different distinct voice personas, with consistent delivery throughout the narration. His Indian sounded true, as did his British.
The novel is set in the 20's, in India, during British rule. The novel's protagonist is Dr. Aziz, a young Indian, who, while attempting to befriend and honor some British folk, is mistakenly accused of 'almost' assaulting a British lady. If you really want to know the details of the plot, look at the wikipedia
entry
. However, with this novel, the plot seems to be incidental. The real driving force of the story is the magnificent representation of the social climate, the characters, and the Indian landscape. And the effect is perfect. While
Heart of Darkness
is flat and ineffective in looking at British Imperialism,
A Passage to India
is full, rich, expressive, and convincing in its portrayal of the British Raj. It highlights the appalling racial inequity and racism in the Raj with superior prose and devoid of any propaganda. It creates sympathy for most all the characters, despite their sometimes serious flaws. Truly moving.
The novel is rife with wisdom, some conventional, some profound. Because of this, I will be buying this book, to keep on my shelf at arm's reach. Yeah, it's that good. I put the 1984 movie version, directed by David Lean, in the netflix queue. The reviews seem to be really good, but as is often the case, I fear the movie will either not live up to the book, or will twist it into something entirely different. We shall see... but not anytime soon, it's #200 or something on the queue!